Ductless ventilation with heat recovery – New unit from FLOWAIR!
2013-08-08
Bezkanálová ventilační jednotka s rekuperací tepla – Nová jednotka FLOWAIR.
From September 2013 FLOWAIR will expand its offer with a device for ductless ventilation of buildings – the OXeN heat recovery unit.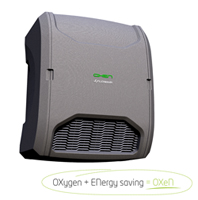 The unit ensures mechanical ventilation with heat recovery. It does not require any additional air ducts distributing the air or special control system. It is compact and ready to use as a stand alone unit. OXeN is available in two versions: 
• X2-W-1.2 – with water heater
• X2-N-1.2 – without water heater

High efficiency of heat recovery (74 – 94%), was achieved thanks to use of two cross-flow heat exchangers. Such a high efficiency saves up to 15 kW of energy!

The OXeN heat recovery unit complements a wide range of products by FLOWAIR. It is perfect for industrial or public buildings that require energy-efficient and reliable mechanical ventilation system without the need of any additional air duct system.